They never get to old to enjoy a book read by momma. My oldest is 12 and he is always the last to fall asleep every night, begging me to read just one more page.
Currently we are reading Percy Jackson and the Olympians Book 1, The Lightning Thief.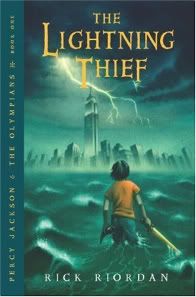 It's a great book and has kept my kids jumping into bed with me every night right after the dinner dishes are all cleaned up and everyone has washed their faces and brushed their teeth. I hate cooking dinner and they hate brushing their teeth so at least we all have something to look forward to after we get our "chores" done. It's been a great distraction from the computer and the TV which we all know is a huge thing to compete with these days... and the best thing is there are 5 books in the series. I am thrilled there will be at least several months of book reading ahead for my kiddos!
Check out all the
Percy Jackson Books
.