OK so I have been wanting to make the kids my version of a bento box but I couldn't find the right supplies. To be honest I am very picky about things and I just wasn't willing to spend the money(read couldn't afford) on one of the big name bento boxes out there (much less do it twice for each kiddo).
I had already purchased the plastic boxes I wanted to use for my kiddos bentos (got them at ikea for $4.99!)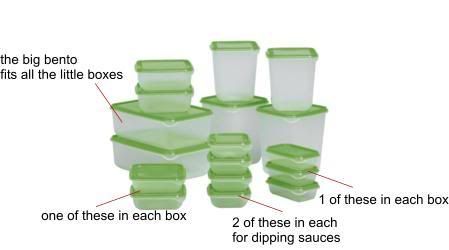 What I hadn't yet figured out was how the kids were going to take them to school. So as I was researching these bento boxes trying to find exactly what I wanted I discovered a blog that led me to the website
Furoshiki.com
. Well truth be told I am a little bit of a fabric hound... why not make my own furoshiki? The little guys is a little too big so I am going to make it a little smaller before I let him use it, but the little girls one turned out perfect in every way.
I am so proud of myself... I even added her own little napkin to the mix!